In small spaces, where horizontal wall space is limited, it's common to find traditional radiators fighting with furniture for prime position.
Don't just accept that the back of your sofa will be toasty and warm long before the rest of your chilly room! Make the most of narrow but tall areas of wall space by fitting vertical radiators instead. This will ensure that your living space is comfortably heated no matter where furniture is placed.
Areas beside windows, French doors, in hallways or small bathrooms can now be used to their full potential. These are the perfect places to fit a high output vertical radiator.
No Loss Of Heat With Vertical Radiators
Many people mistakenly believe that vertical radiators cannot emit as much heat as their horizontal counterparts. This is simply not true.
Merely altering the orientation of your radiator will in no way affect the amount of heat output. In fact, vertical radiators often emit heat more efficiently, as they are not usually blocked by furniture.
Heat ratings of over about 5,000 BTU are considered pretty high, and these radiators will ensure that you're toasty warm all year round. For your convenience, we've listed ten of our vertical radiators that boast high heat outputs.
Top 10 Vertical Radiators With High Heat Output
Laser Klassic Vertical Designer Radiator
Firstly, the Laser Klassic tubular radiator from KRad is a hugely popular model. The thick tubular steel columns are often known as Victorian-style radiators due to their classic design. This designer radiator comes in pure white, and the simplistic and modern look is perfect for creating a homely and warm interior. It comes in three sizes, the largest of which produces a heat rating of 6516 BTUs.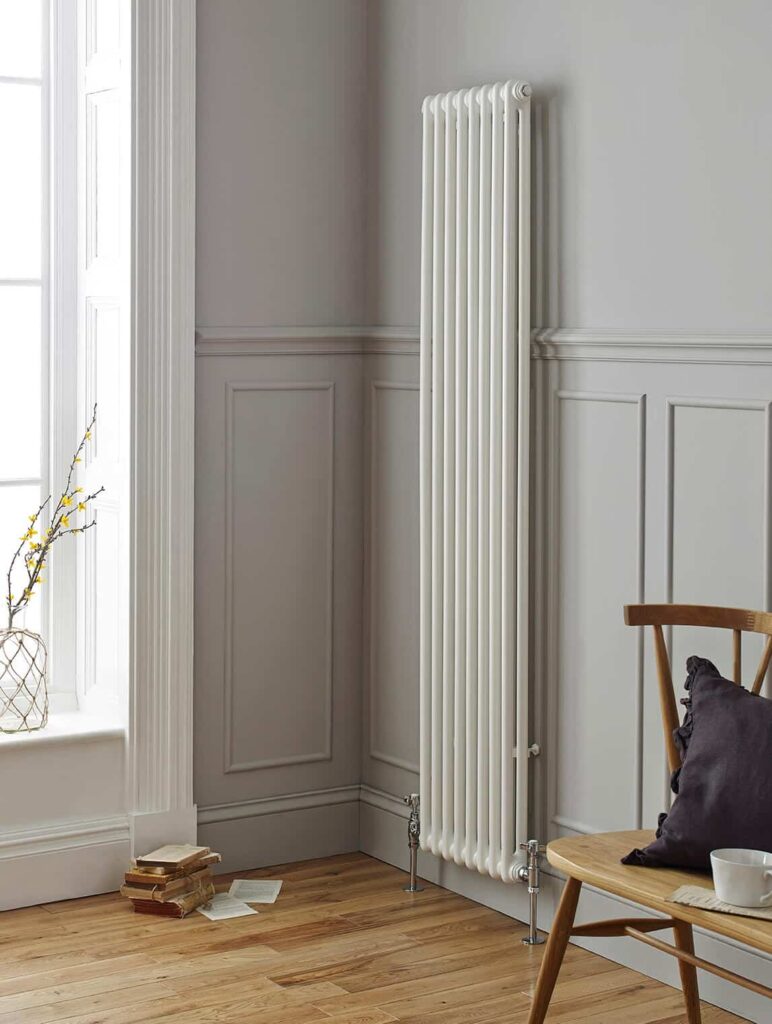 Raw Metal 2 Columns Vertical Radiator
Secondly, this tubular designer radiator from KRad comes with a slick raw metal finish. Its two columns and long metallic panels give this vertical radiator a classy and rustic look. Also, it's extremely cost-efficient, with the largest of the three sizes having a BTU rating of 6063.
Corus Duo Vertical Radiator
The outstanding Corus Duo Vertical designer radiator has a double panel convector and comes in three different sizes. With a choice of either striking anthracite or a cool white finish, the sleek vertical frame highly cost-efficient and adds a splash of quality to any modern interior. PoshRads supply this radiator with a central connection, and the largest size has a BTU rating of 9350.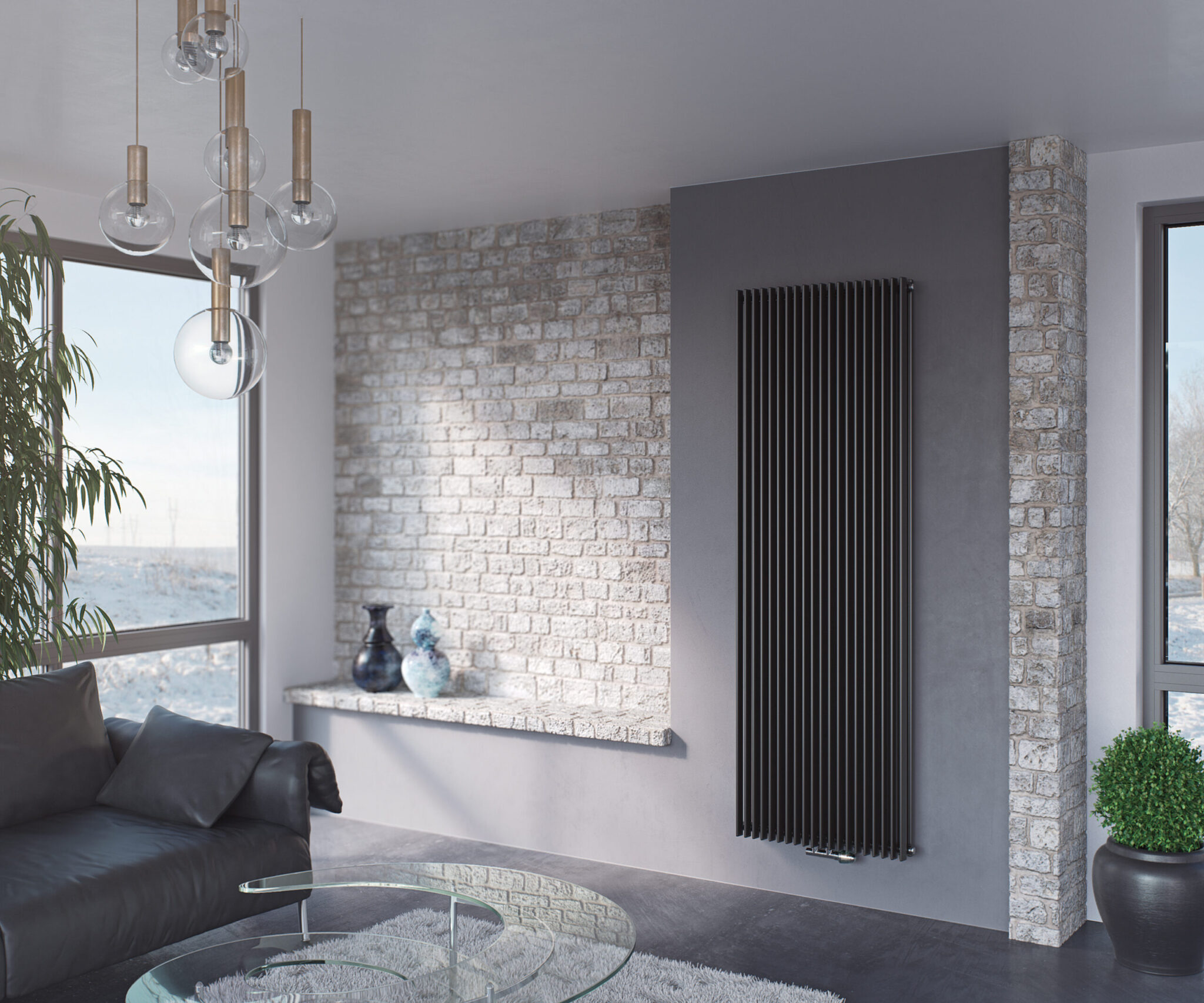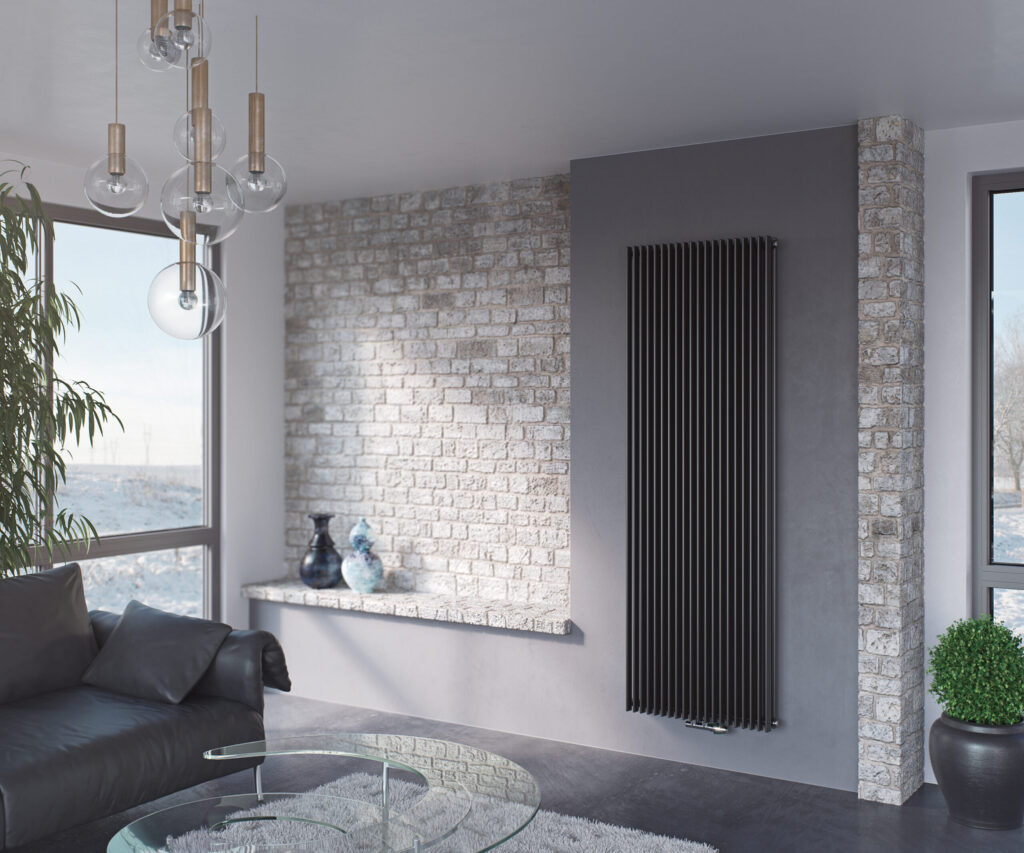 Mars Duo Vertical Radiator
The Mars Duo designer radiator has a rustic-looking, anthracite finish. It's economically priced, but with its satin-like coating and sturdy vertical frame you'd think it was much more expensive. Besides this, it comes in up to eight sizes, the largest of which has a heat rating of 6802 BTUs.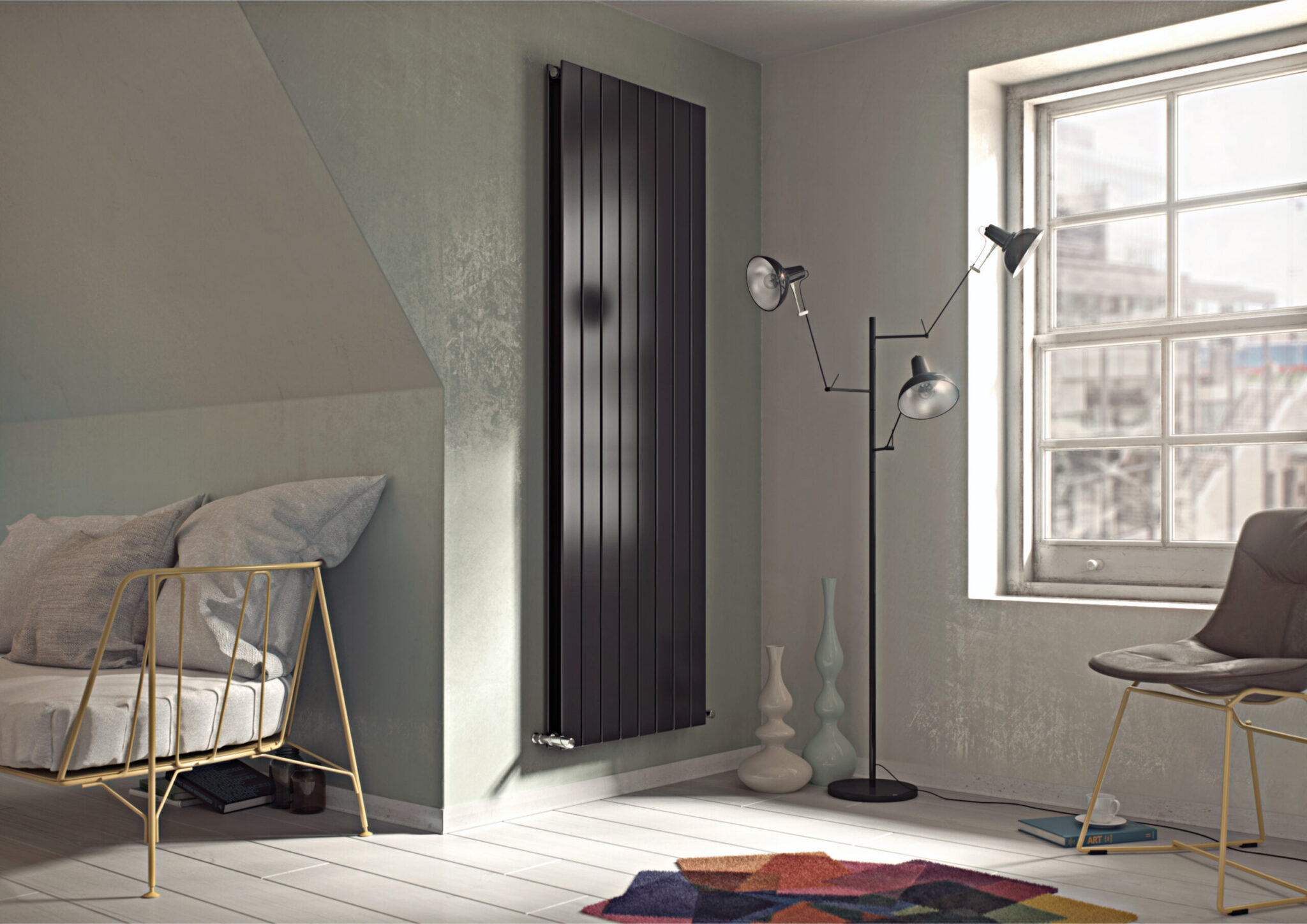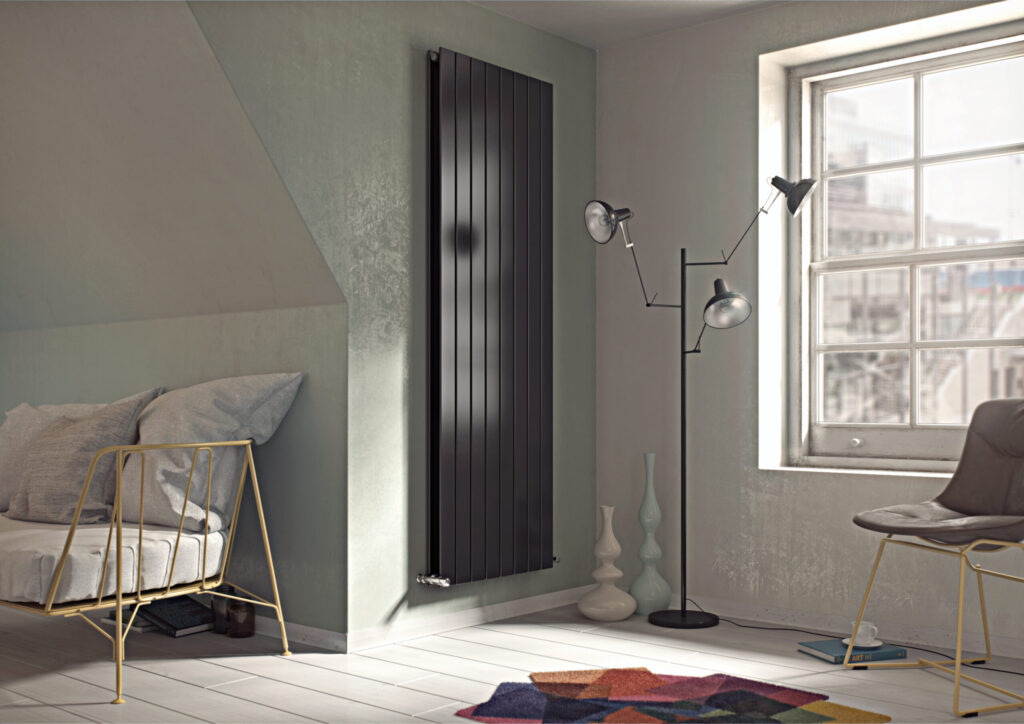 Nova Duo Tube Vertical Radiator
The Nova Duo Tube vertical designer radiator from Eucotherm has sleek oval tubes in either white or anthracite. This radiator will provide your home with a modern and fresh look. It's available in eight sizes and the largest one offers a heat rating of 6253 BTUs.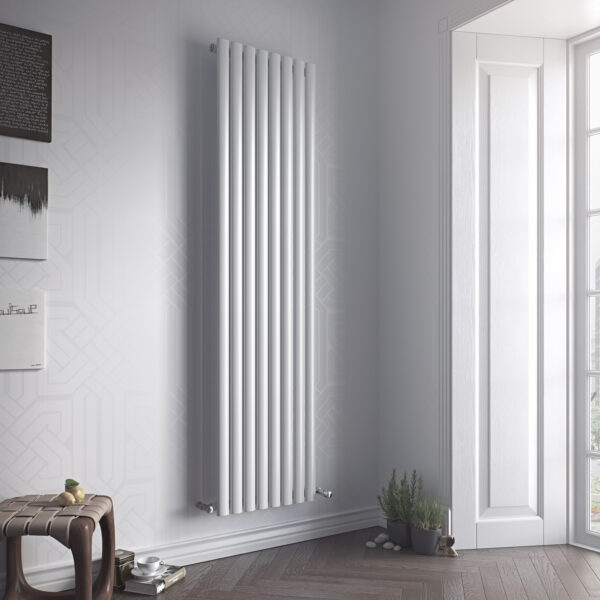 Terma Delfin V
The Delfin V from Terma is a classic-looking vertical radiator with a beautiful finish in either Pigeon Blue or Soft White. The largest of the two sizes available has a BTU rating of 5538.
Vulkan Square Tube Single Vertical
The Vulkan Square is a smart, vertical radiator with a square, tubular design. Constructed from high-quality powder-coated steel, Ximax have designed this radiator for efficiency. It will enhance the aesthetics of any room, and the largest of the five sizes available has a BTU rating of 6198.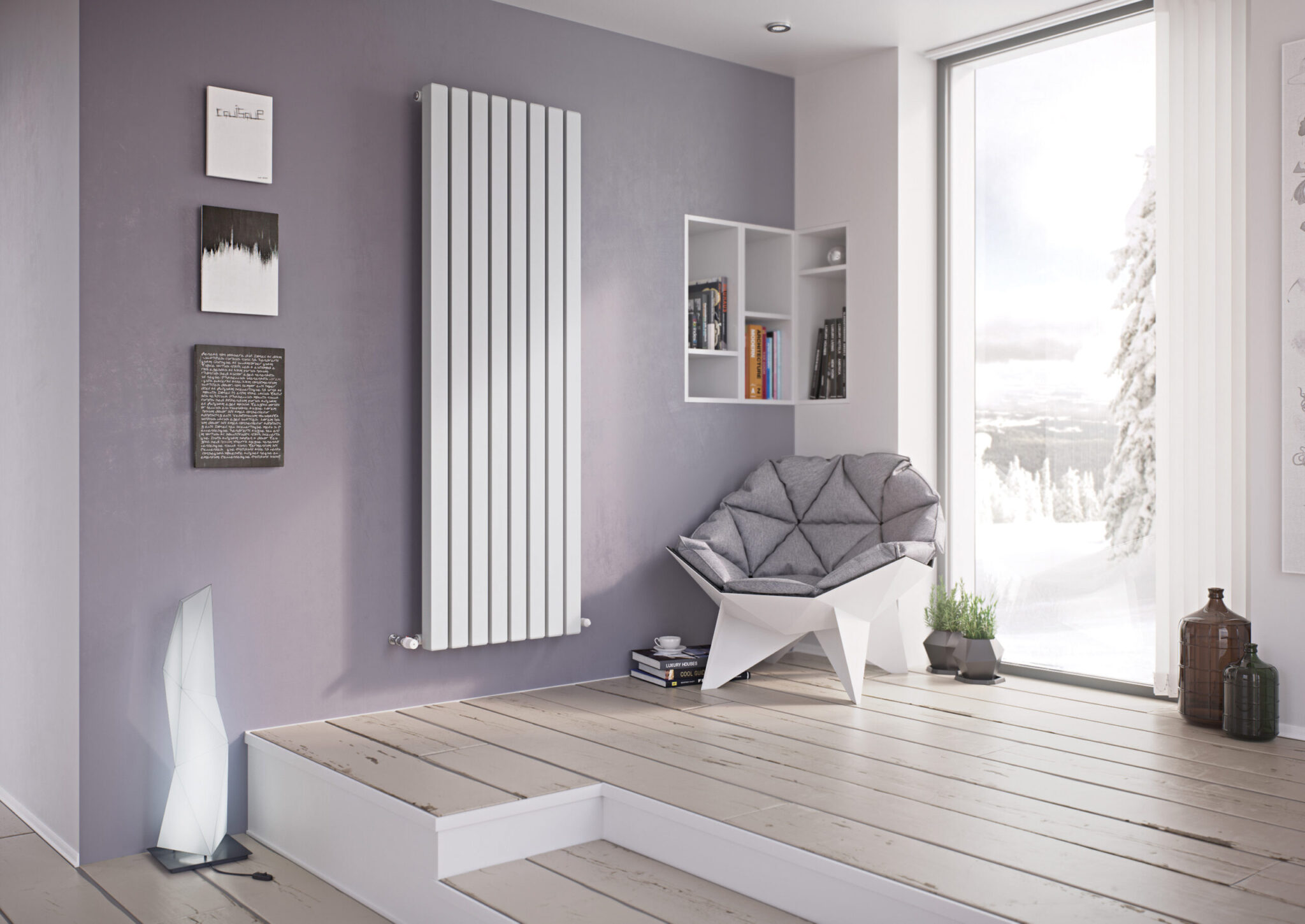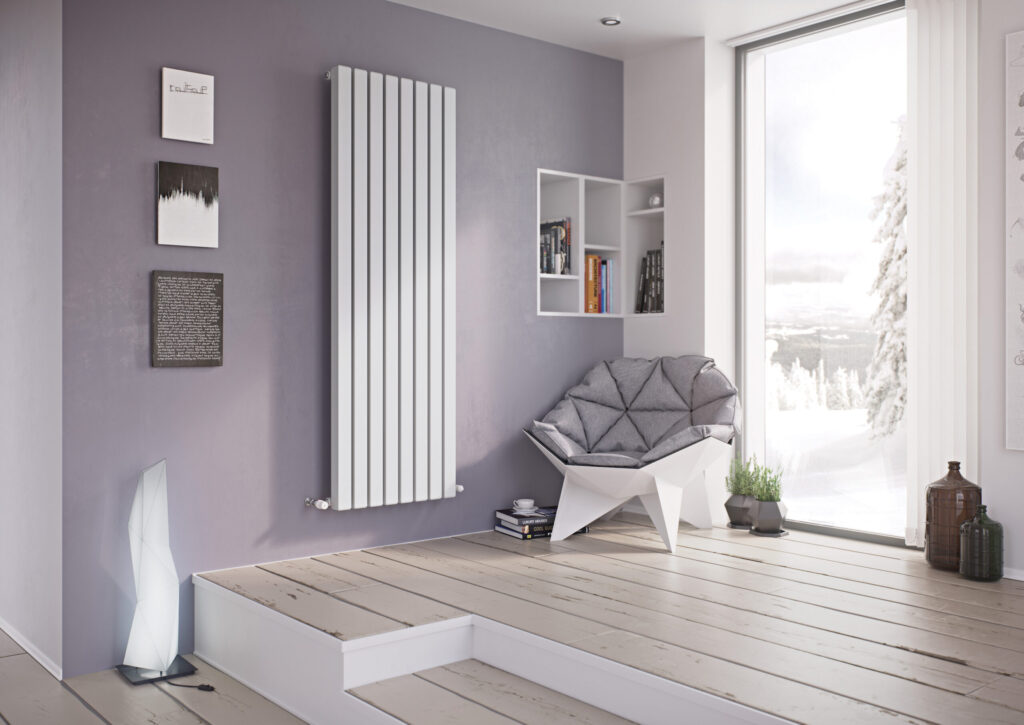 Vermont Hi Vertical Designer Radiator
The affordable price of the Vermont Hi vertical designer radiator will surprise you, due to its striking features and sophisticated design. It comes in a creamy white finish, and in five sizes. The largest option has a whopping BTU rating of 8613.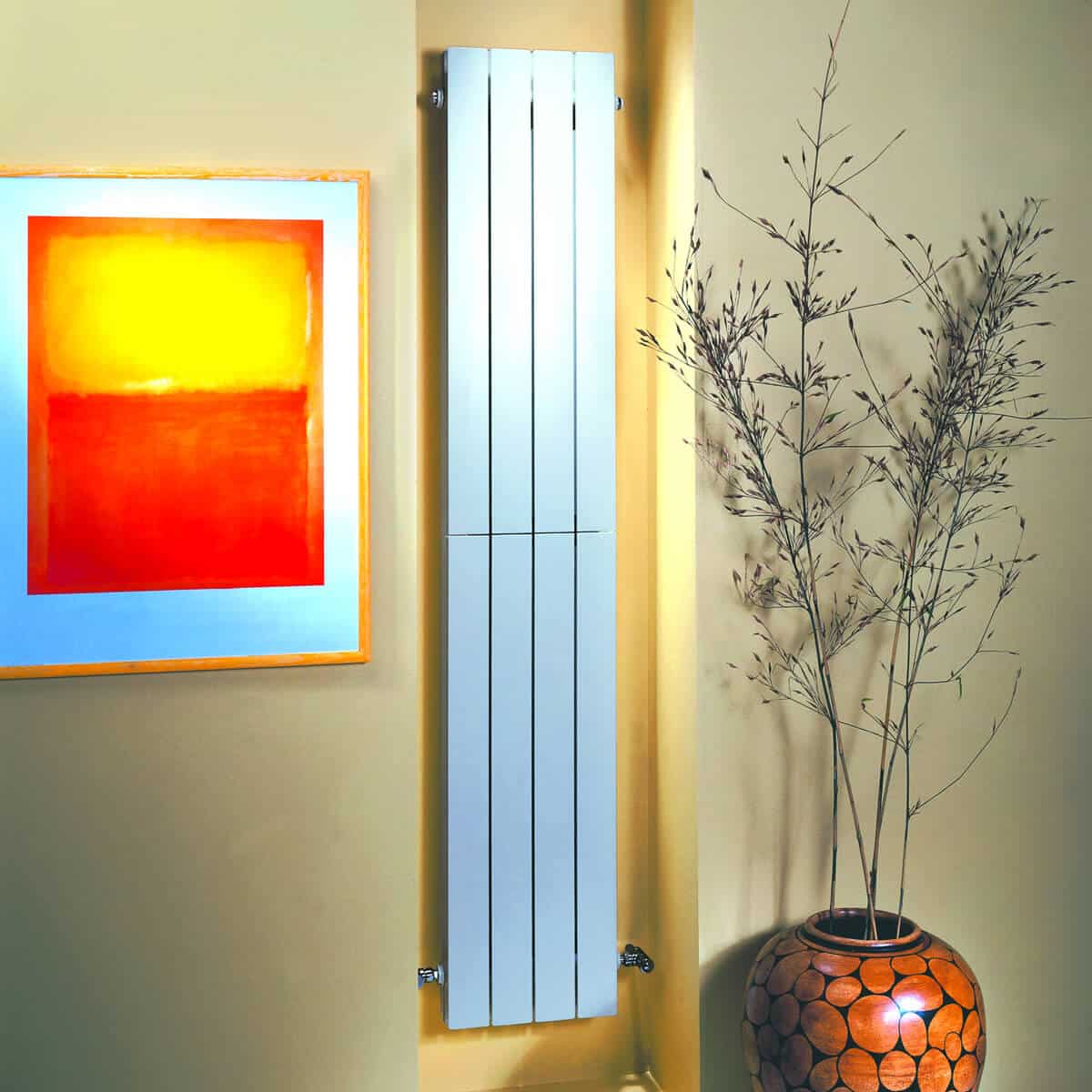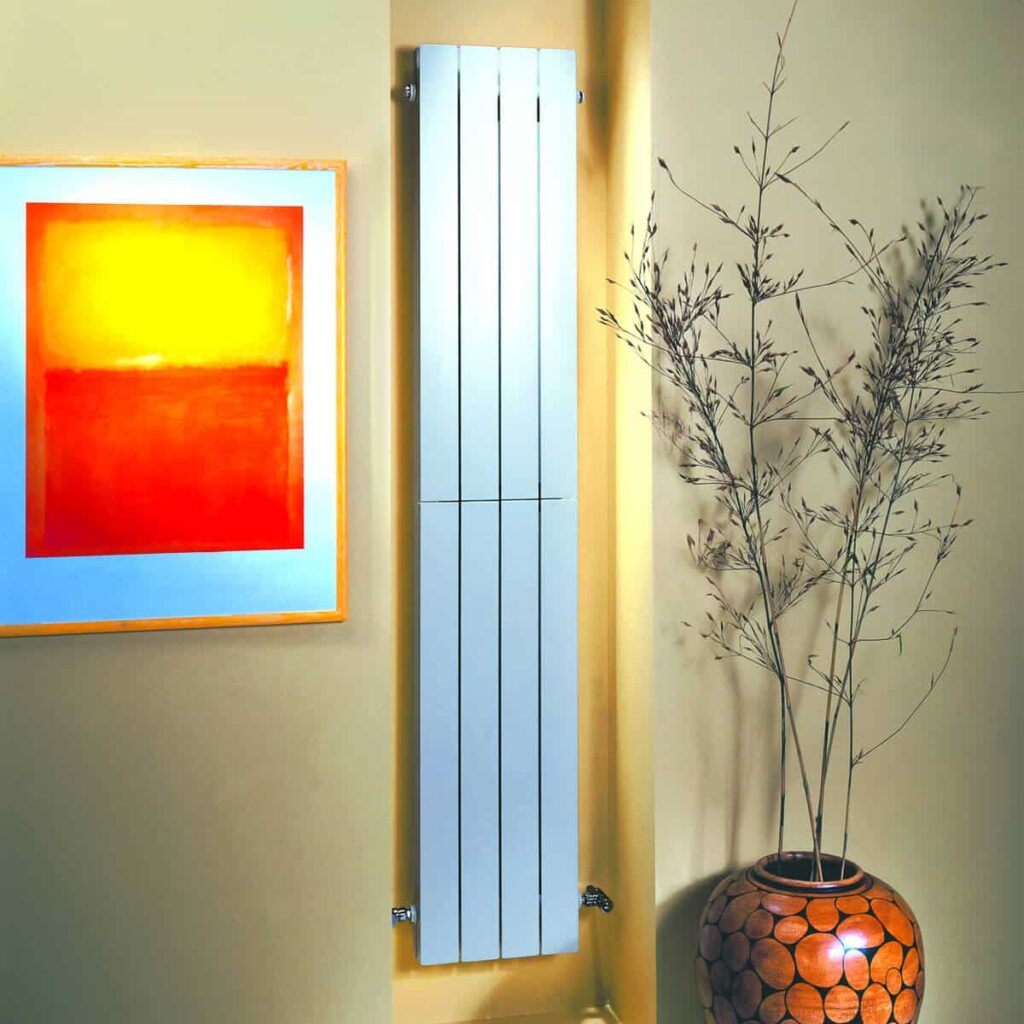 Kansas (great heat output for a corner radiator)
If you'd prefer a corner radiator, but you don't want to comprise on heat output, take a look at the Kansas. This iconic, anthracite radiator fits beautifully into the corner of any interior. And it has an impressive heat rating of 5369 BTUs.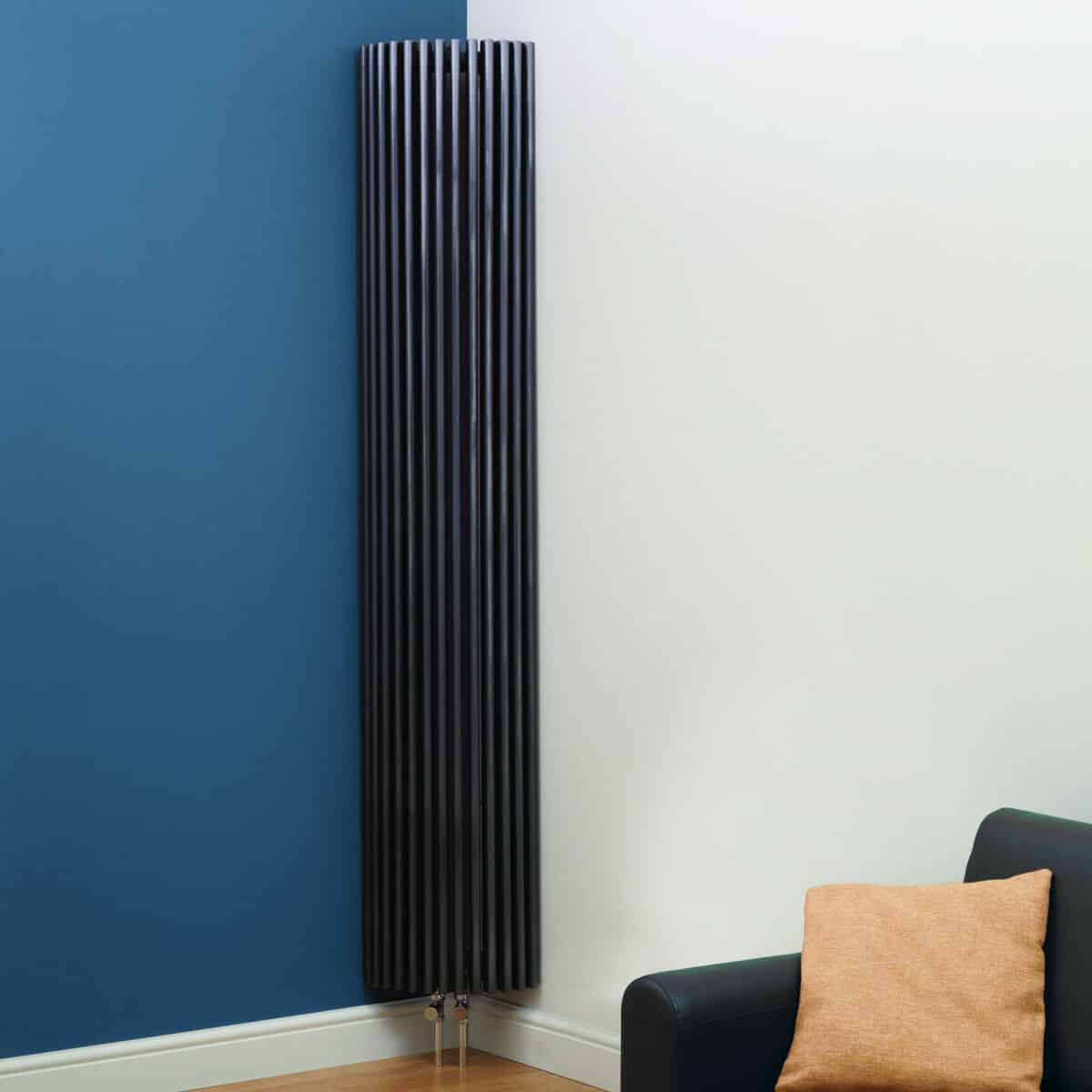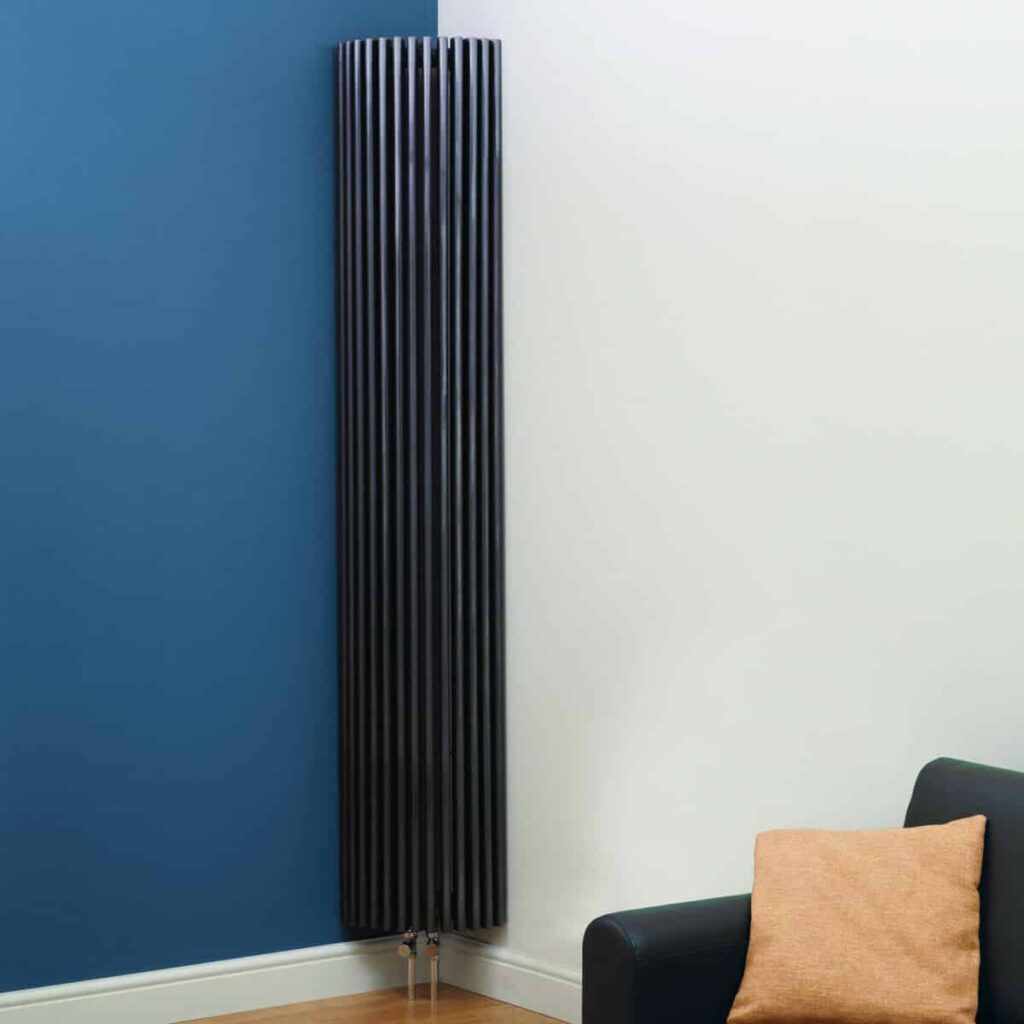 Aspen Double Vertical (highest heat output)
Finally, the Aspen Double vertical radiator comes in white, stainless steel or anthracite, with a slimline design and smooth finish. Its sleek frame and simplistic features make this one of our most stunning and cost-efficient radiators in stock. The double option comes in four sizes, the largest of which has a huge BTU rating of 9691.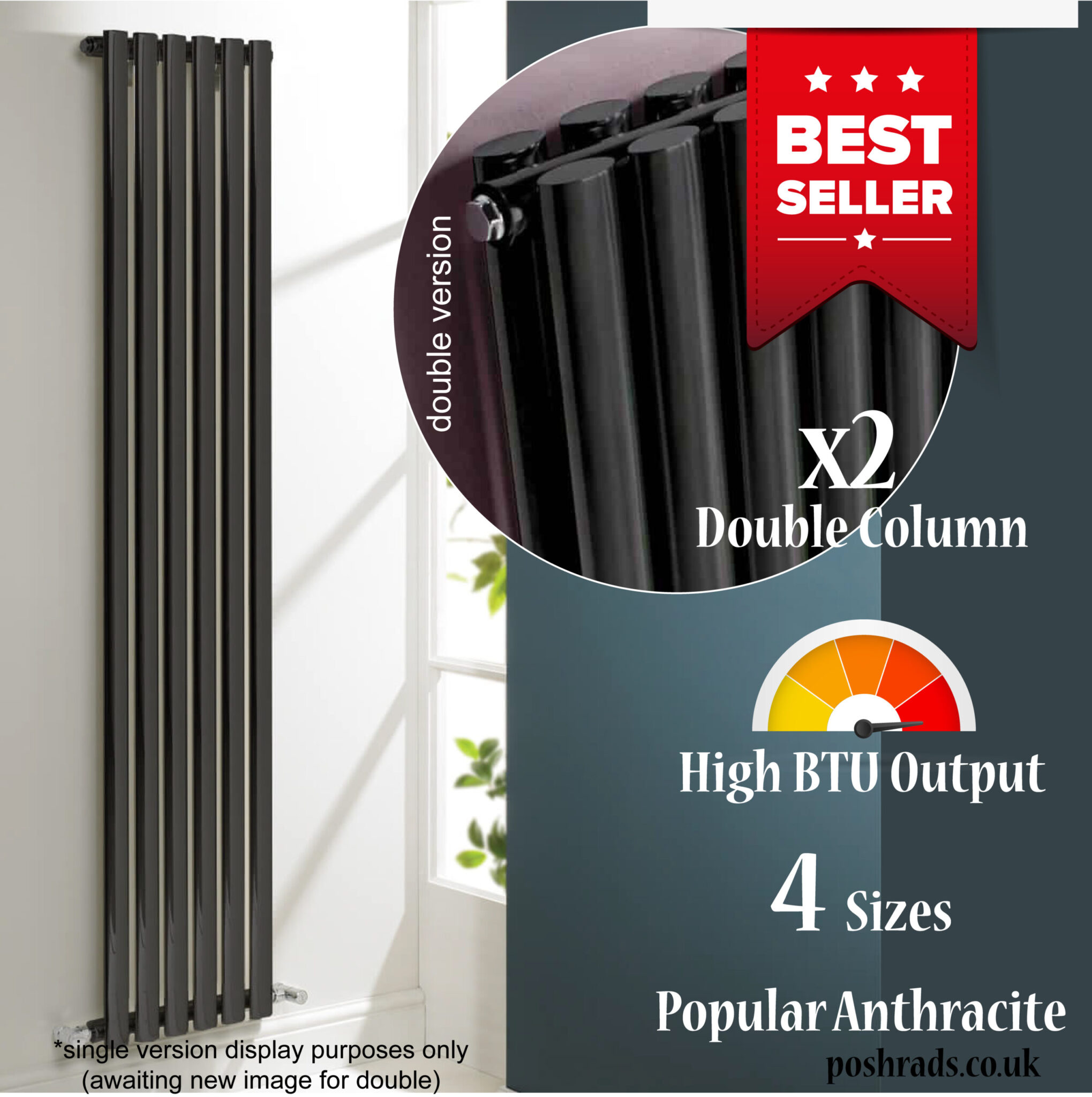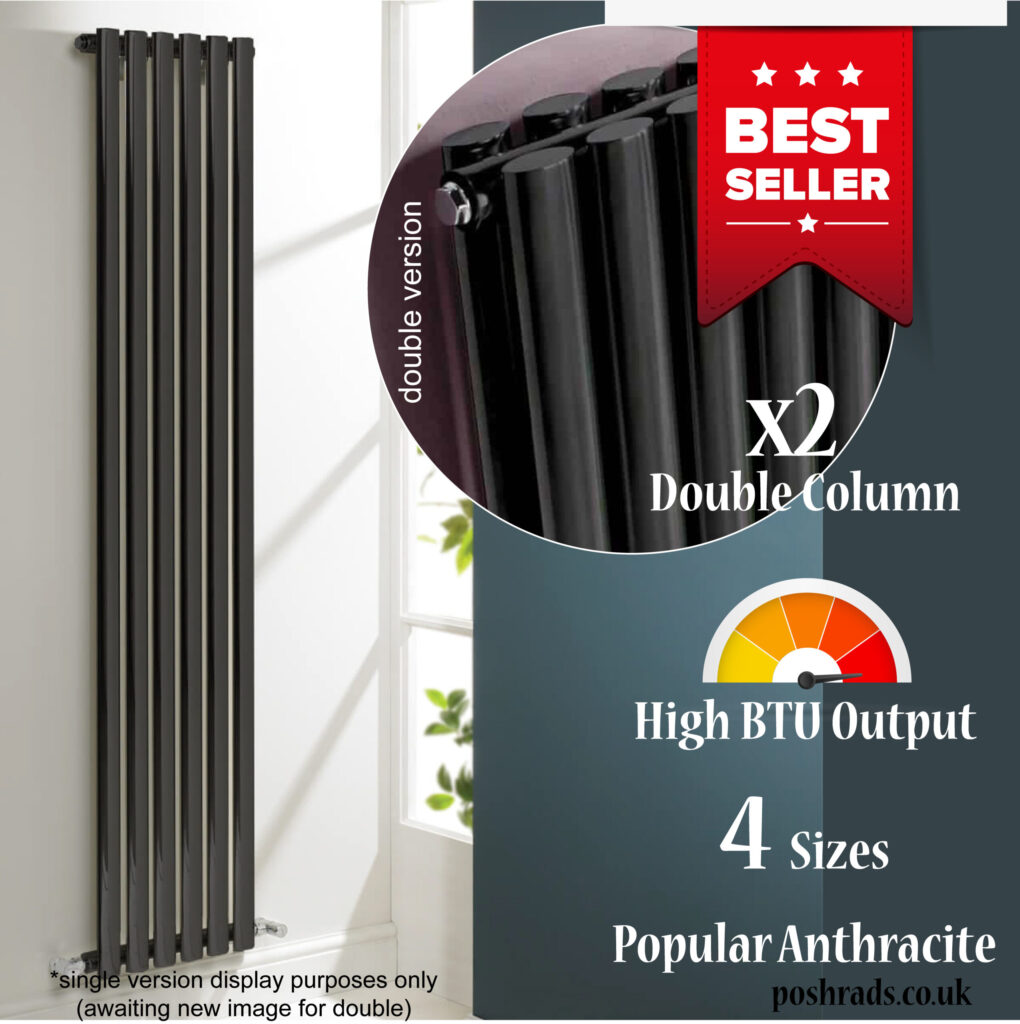 These are just some of our vertical radiators with high heat outputs. To see more, click on vertical radiators and select the heat output you require.
If you have any questions, contact us on 0800 0096145 or send us a message today.