Terma Designer Radiators
This page is designed to display all of Terma Manufacturers designer radiator range which is available through us to buy online and readily available to ship next day. On here you will find all of the Terma products available we have even put them into popular categories for easy browsing Read More…close
Terma or termaheat as it is also know is a well known and trusted brand in the UK being synonymous for there quality range of electrical elements and quality engineering. You will find amongst the range suitable fashionable designer radiators, towel radiators and accessories to match by Terma. The One range by terma is made up of a collection of fashionable Towel Rails all fully electric ready for action! Some of it's popular models featured in the One range include the Alex One, Simple One, Easy One & Quadrus Bold One.
Other popular designs include the Terma Ribbon a sought after trendy spiral design made up of continuous crafted discs available in electric or standard central heating versions.
new to 2019 terma have added to there designs and come up with some creative new designs
Cast Iron Models:
– Plain
– Plain Towel Rail
Electric Radiators:
– Tune VWS E
– Camber E
– Rolo Room E
– Triga E
– Nemo E
Electric Towel Rails:
– Alex One (White Version)
Central Heating Radiators:
– Aero
– Colorado
– Hex
– Nemo
– Rolo Room
– Rolo Mirror
– Triga
Central Heating Towel Rails:
– Alex (new White Version)
– Michelle (7x New Colours)
– Retro (changes to existing colours and a new colour added)
– Swale (new White and Copper version)
– Rolo Towel
Check out the range below…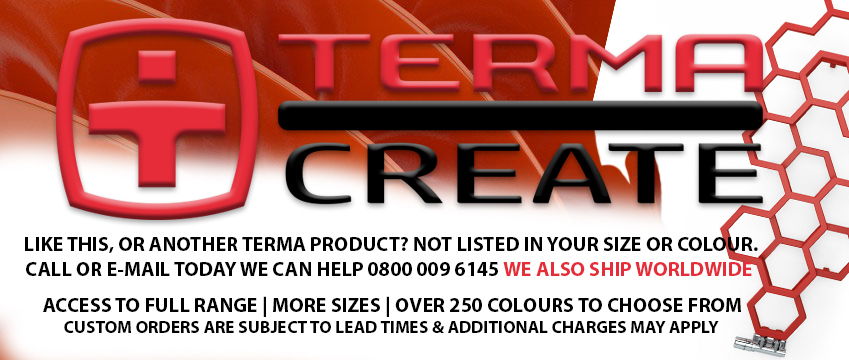 Vertical Tall and Horizontal

Radiators
We see vertical designer radiators as the original showstoppers! A total shake-up in the world of designer radiators, turning the idea of a radiator upside down (or just ninety degrees!) and offering something totally different to a room's decor.
Smaller spaces benefit especially well from a vertical radiator, allowing you to make the most of your loor-to-ceiling space rather than taking up valuable horizontal space where you may need to place other furniture.
Have questions

, please get in touch

with us
Why you should choose us for

Designer Radiators
Posh Rads has been advising customers and supplying top quality luxury radiators for many years. Our extensive collection of horizontal and vertical radiators and heated towel rails comprises attractive designs, colours and sizes to suit any room. We can offer you amazing quality at unbeatable prices, thanks to our extensive experience in the industry, as well as fast and free delivery anywhere in the UK.
Our founder, Robbie Baines, handpicks the designer radiators that make up our collection and has an eye for quality when it comes to style and performance. If you are looking for a traditional style to compliment your home, or something more bespoke and unique to provide a designer talking point, you are sure to find it with us. Our designer radiators are made for living rooms, bedrooms, bathrooms, kitchens and hallways. There is no place like home, so let us help you create a beautiful, unique space that reflects your style and keeps you warm.
Our team of friendly heating experts are ready to help you, every step of the way, from initial enquiry to the despatching of your order and after-sales support. We aim to get your radiators to you as quickly as possible. You shouldn't have to wait for something we know you're excited about receiving, and we can't wait for you to unpack your stunning new luxury radiator!
As well as adding a beautiful object to your home, we know that buying a designer radiator is an investment into making your surroundings more comfortable without breaking the bank, which is why all our models are energy efficient, helping you to keep your energy bills low.
We also work with trade customers, businesses and stockists to share the love and supply a wider audience with our beautiful designs. Our traditional and contemporary radiators look just as striking in offices, retail outlets and commercial premises as they do in domestic homes and have impressive efficiency credentials and a range of colours and finishes.
Interested in ordering

but don't know where to start?
Use our BTU calculator to find the perfect designer heating solution to. Match your specific space. Enter your room dimensions, type, window specifications and the location where your new trendy radiator will be installed and let our calculator do the rest.