A modern designer radiator will add a touch of luxury, style and comfort to any room of your home, without ever compromising on functionality. With a range of shapes and sizes available, a designer radiator can help you to use the space in your home effectively, and turn what could be just a boring heating appliance into an attractive feature.
PoshRads offer exactly what our name suggests, a stylish collection of easy to install designer radiators, all with the high heat output and attractive contemporary looks.
Here are some of the key features of our impressive collection:
Space-saving Radiators
Make the most of smaller spaces and maximise the wall and floor space in your home. Our tall and slim vertical radiators are perfect for awkward spaces and also double as hanging rails for wet coats and towels.
Contemporary Radiators
You'll be amazed at how even the most tired and dated rooms in your home can instantly be brought into the 21st century with the introduction of a modern designer radiator.
Decorative Designer Radiator
If you fancy yourself as the next Laurence Llewelyn-Bowen and have a bit of a knack for interior design, why detract from your chosen look with a boring hunk of metal? Complement your fabulous décor with a designer radiator and make a statement with your home heating!
High BTU output
Whatever the size of your room, create a stylish, warm and inviting space with our super-efficient heating solutions. All of our radiators have the BTU output listed on the description, so you can be sure of what you're getting before you buy.
Electric Designer Radiator
No central heating? No problem. Our range of designer radiators also includes a vast selection of electric radiators. These are also a great option for conservatories or summer houses. How about this Terma Camber Electric radiator? It comes in either white, graphite or quartz mocha, and has a contemporary curved design.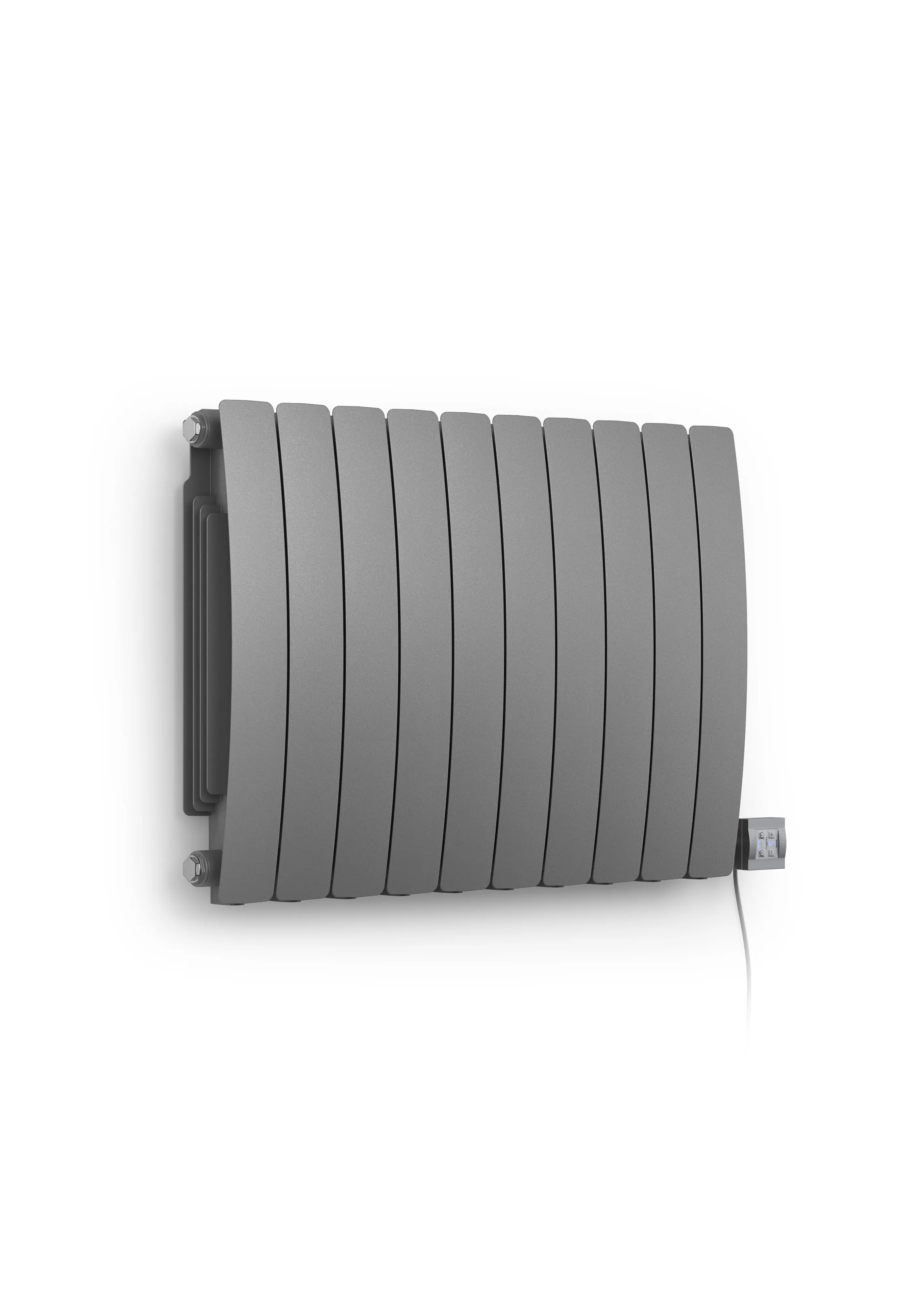 A Wide Range Of Styles
Each designer radiator in our collection has been specially selected to enhance the look of your property.
From traditionally styled radiators to more modern designs that make a style statement, we supply designer radiators in an impressive array of finishes and materials to help create a spectacular focal point in any room of your home.
Colour Coordinating Radiators
Want to match your radiator to your décor? Many of our designer radiators feature a range of finishes and colours to choose from. Whether you'd prefer white, chrome, black, grey or even raw metal, we've got a colour coordinated heating solution for you.
Free UK Delivery
We offer free UK delivery on all designer radiators and designer towel rails bought online. If you are not entirely satisfied with your purchase, we're here to help and resolve any issues.
Unusual Designer Radiators for Different Rooms
If you'd like a radiator that's just a bit different, take a look below at some of the more unusual designs we have to offer. They're sure to catch the eye of all visitors to your home, and are instant conversation pieces!
Unusual Bathroom Radiators
As the bathroom is usually one of the smallest rooms in the home, saving space is a common focus when looking for a bathroom or en-suite radiator. Also, all those wet towels need a place to dry! With this in mind, here's our first choice for a unique bathroom radiator.
What better way to make a bathroom style statement, whilst making the most of a small space, than with a vertical radiator which incorporates a full-length mirror?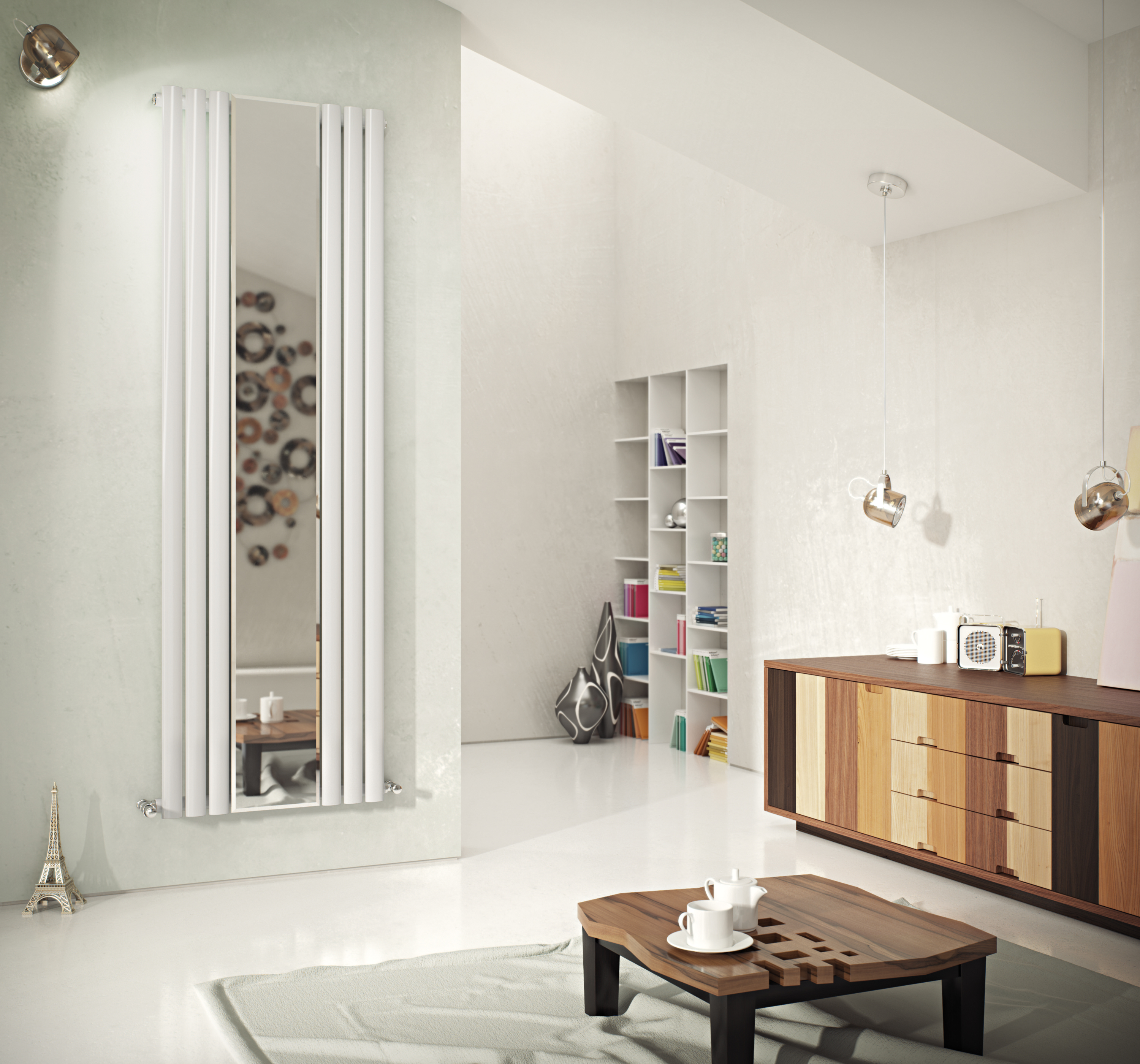 The Nova Mirror single tube radiator is beautifully streamlined, with the full length mirror flanked by a choice of white or anthracite panels.
Make sure your bathroom is toasty warm when you hop out of the shower. Then dry your towels over the vertical panels, and get yourself looking ready for the day with this super stylish and extremely practical space-saver.
Unusual Kitchen Designer Radiator
Looking for an eye-catching radiator for your new kitchen? Wall space is very often restricted in kitchens due to cupboards, fridges or other appliances. Because of this, vertical radiators are a popular option here.
This next radiator is very unusual, and has a bit of an industrial vibe. The Terma Ribbon vertical radiator has an amazing heat output of close to 3000 BTUs, so despite its small size, it will still adequately heat a very large area. There's also a horizontal option if you'd prefer.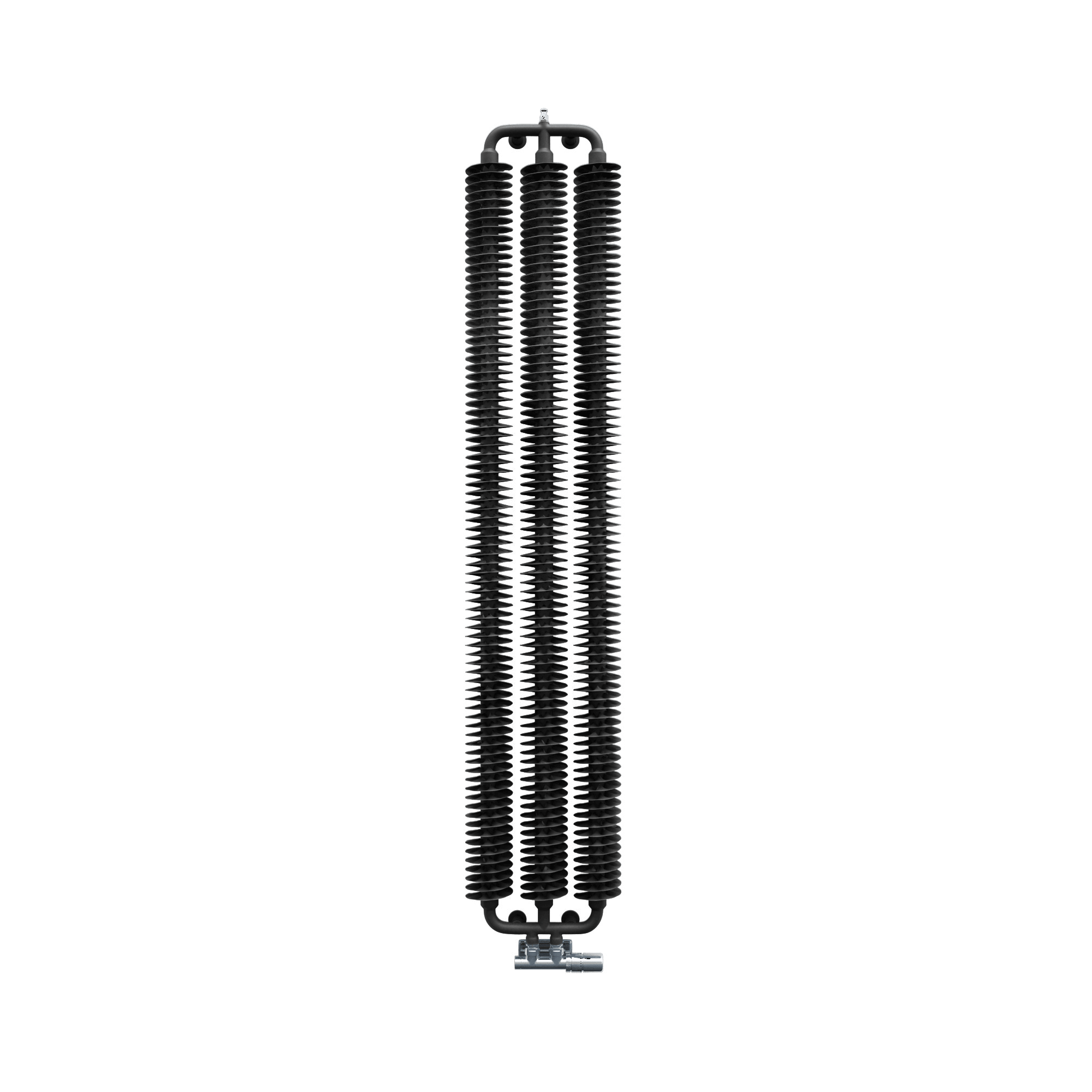 It comes in a range of colours; heban black, metallic black, copper or metallic grey, so you can match it to whatever trendy new look you've chosen.
If you don't have central heating, that's no problem, as Terma do an electric version of this radiator right here.
Unusual Living Room Designer Radiator
The living room is the hub of your home and is likely to be where you and your family spend most of your time. Therefore, it's a great place to show off your personality and taste through your choice of décor.
So, if you're looking for a radiator that's totally different than anything you've ever seen before, look no further than the Terma Hex!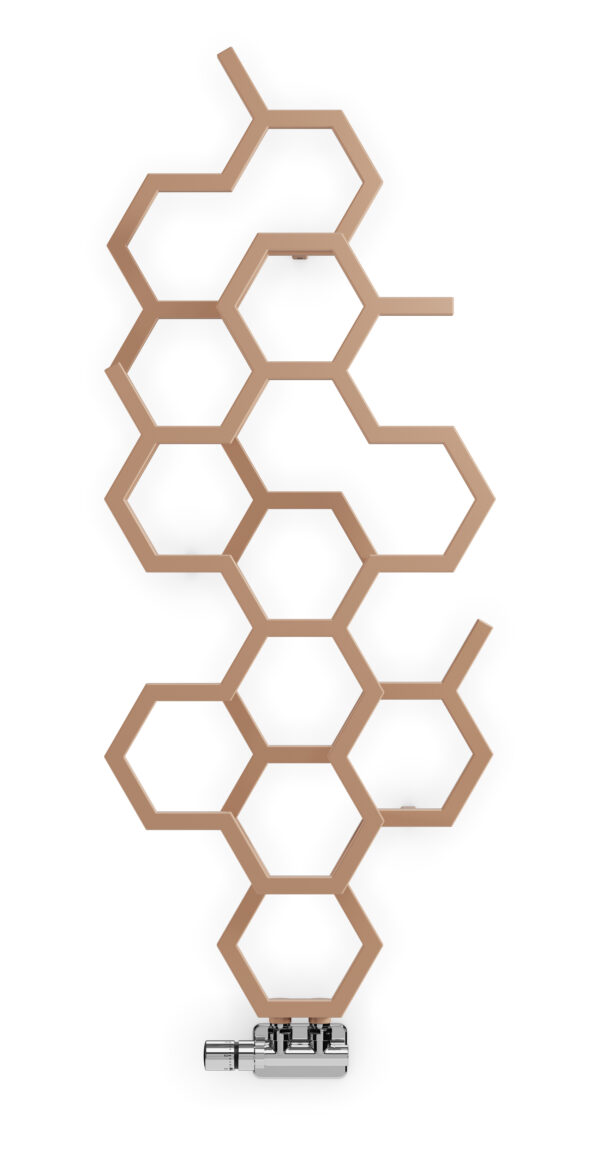 The Terma Hex is one of our most popular products, and looks more like a piece of stunning wall art than a heating appliance!
As practical as it is pretty, the points where the hexagons break can even be used as hangers for wet clothes.
It comes in either copper or matt black, and you can choose from two different sizes.
Unusual Bedroom Designer Radiator
Your bedroom is the first thing you see every morning and the last thing you see every night. Any heating solution you choose for your bedroom therefore has to keep you cosy, but also be beautiful and stylish.
If you're after an unusual and stylish designer radiator for your bedroom, take a look at this. We can't tell you how much we LOVE this Towelrads Bench Radiator, which comes in beech or oak, to perfectly complement the rest of your bedroom furniture.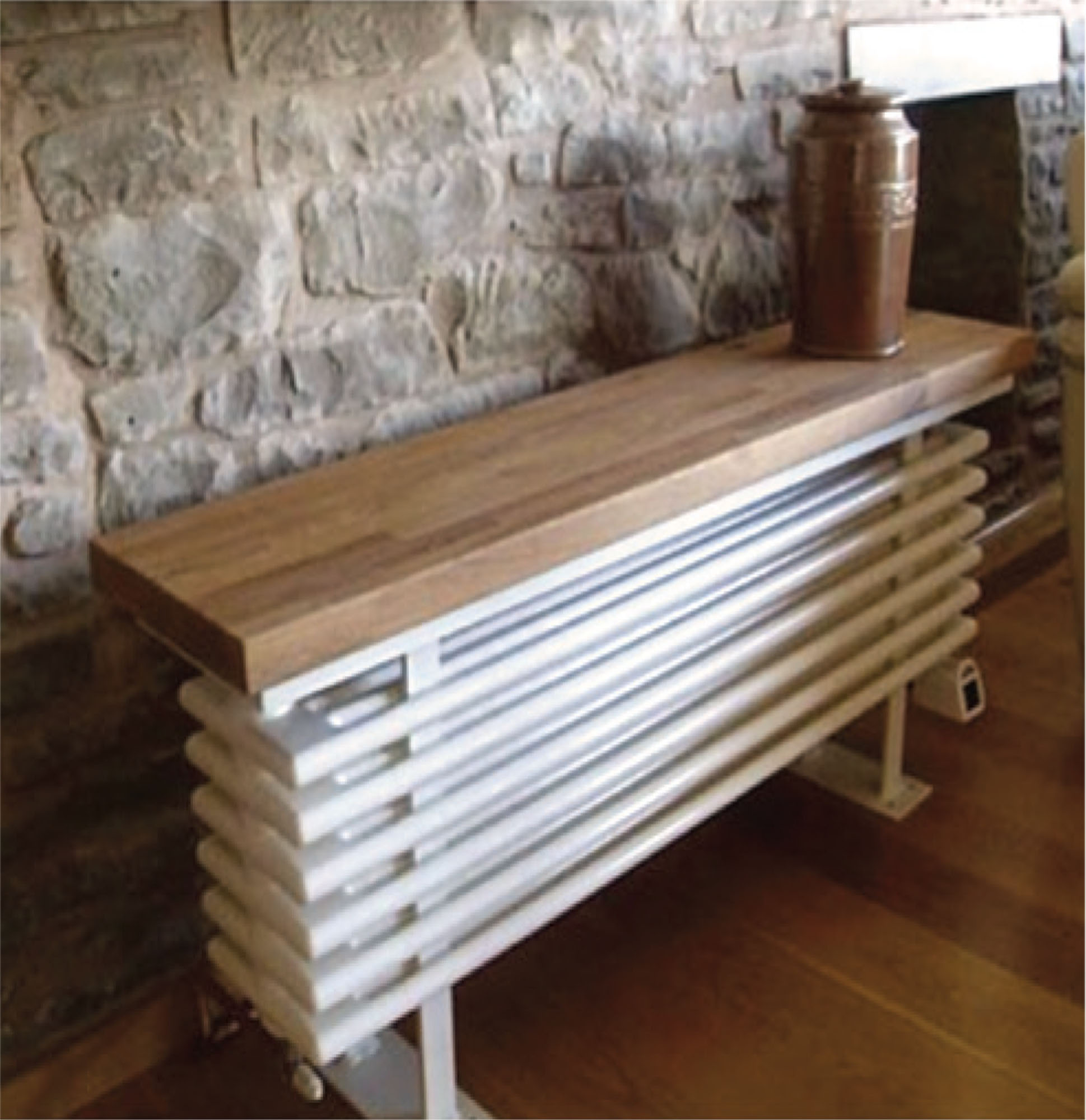 Pop your jammies on it so they're toasty and ready for bed, sit on it in a morning while you do your hair and makeup on a cold winter's morning, or just jazz it up with a few ornaments. The possibilities are endless.
Take a look at our full range of designer radiators
The radiators mentioned in this blog are just a few of the many stunning models we have in stock here at PoshRads.
Take a look at our full range of designer radiators, which includes straight, curved, horizontal and vertical options, in a range of sizes and colours. With so many to choose from, you can be sure that there's a radiator to suit your taste.