Thanks to the emergence of this dreaded lurgy, many more Brits are working from a home study than ever before. And since we've been home more, we've finally started to get around to those jobs around the house that we've been putting off for years.
Even once COVID has got its dreaded second spike out of the way, it's likely that a lot of folks will be keen to continue with the home working model on a long term basis. There are many proven advantages, even when it's not being enforced by the government.
Are you thinking of making your home office setup a little more permanent? We just know you can do so much better than stuffing your computer and pile of papers under the stairs. Having that dream office space is sure to make your work a little more inspiring. With a lick of paint, a few shelves and some decent lighting and heating, you could have a home study to be proud of.
What You'll Need to Set Up Your Home Office
Before we dive into examples of remote office setup ideas, let's go through the essentials for any remote office.
Desk
PC or laptop
Strong WiFi connection
Ergonomic desk chair (don't underestimate the importance of good posture!)
Adequate lighting (natural if possible)
Notepad and pens
Noise-cancelling headphones (essential if you have kids or pets!)
Calendar
Plants, art, or other inspiring and calming elements
A source of heat
It's especially important to incorporate heating solutions in your planning. It's unlikely that you're going to be particularly productive if your teeth are chattering! Take a look at our huge range of designer radiators to find one that suits your needs, space and budget.
Where is the best place for my home study?
This entirely depends on your circumstances and is the first decision you're going to have to make. Take into consideration the nature of your work, and the people you live with. If you can't hack the kids screaming whilst you're trying to work, a dedicated study in your loft, garage or garden room might be best. However, if there's no one else to take care of the little blighters, you might need to keep an eye on them yourself! This could mean that you'd be better off having an office space in your lounge or kitchen.
Sometimes, when space is an issue, you'll just have to make the best of the situation and start thinking creatively. Can you modify the guest room or clear out the garage? Perhaps there's space on your landing with the potential to become your brand new study. Room dividers are a great solution to keep your office private, and your mind distraction-free.
It's important to consider if you have a socket nearby, as you'll need to plug in your computer and printer at the very least. If it's dark, a desk lamp could also be handy. And if you're planning on an electric radiator, then that'll need a plug socket too!
You'll concentrate much better if you're comfortable. An ergonomic chair is so much better for your back than the dining chairs we've all been making do with, in recent months. You should also make sure that the area is well ventilated, and that you're warm enough. No one can concentrate when they're shivering.
Heating for your study
With comfort in mind, check out some of our beautiful designer radiators.  Heating doesn't have to be ugly – gone are the days of great hunks of metal ruining our walls.  Our designer radiators are, quite frankly, nothing short of pieces of art!   Don't believe us? Just check out this funky little number; the Terma PLC is not what you'd expect a radiator to look like at all, right?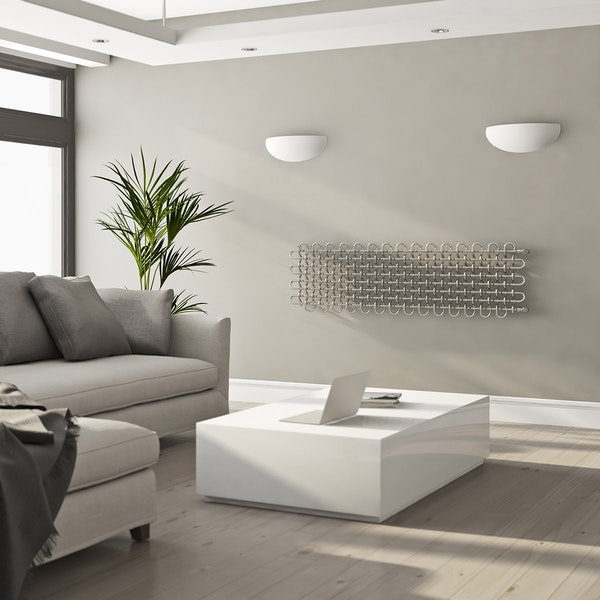 The choices for heating your office space are endless. You could choose a brightly coloured radiator, such as the Mars Vitro, to jazz up your workspace, or even one with a mirror built in, such as the Nova Mirror, to preen yourself before your next Zoom call!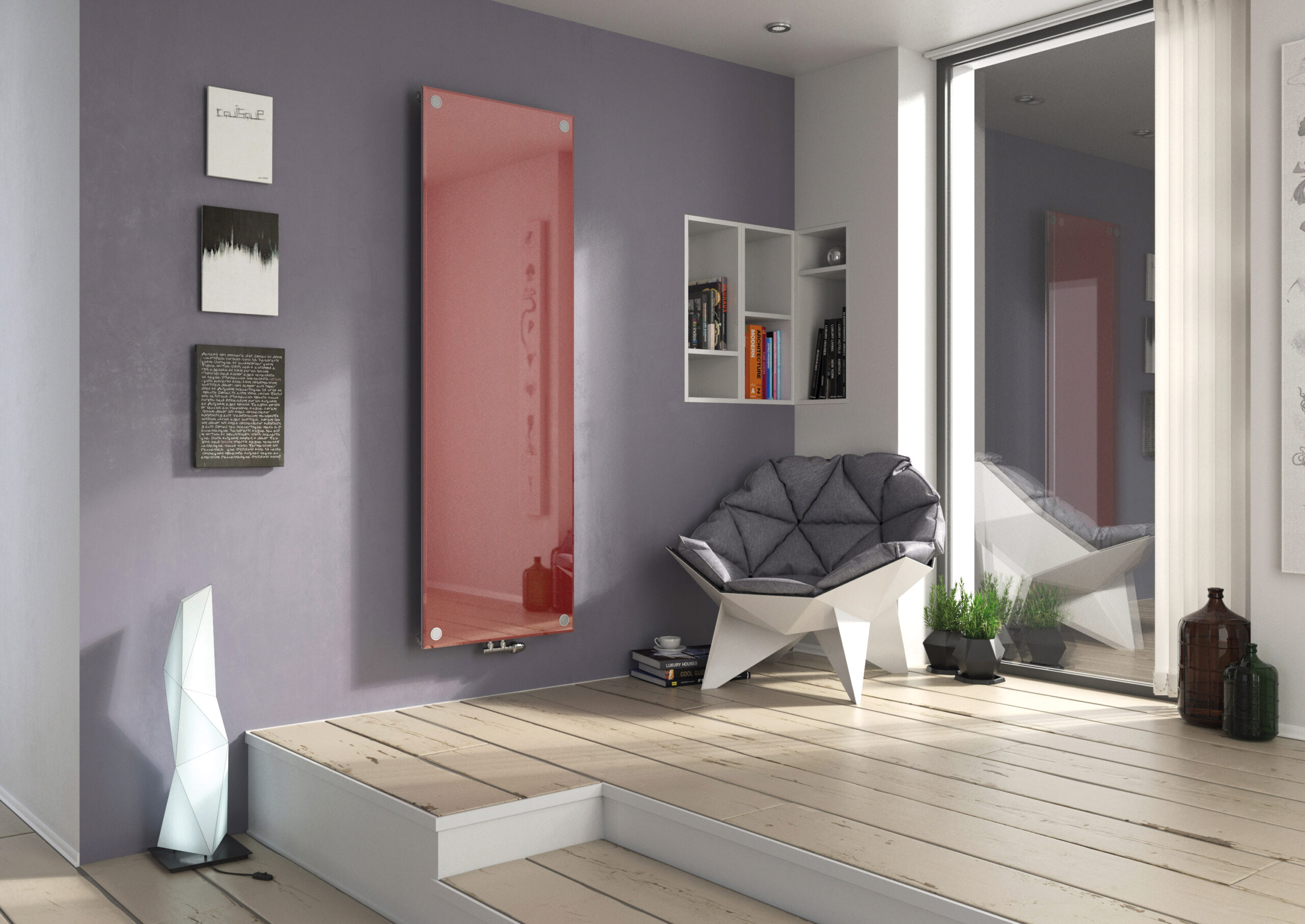 We have a huge range of horizontal, vertical and even electric radiators available, and you can choose the size and colour to suit your space perfectly.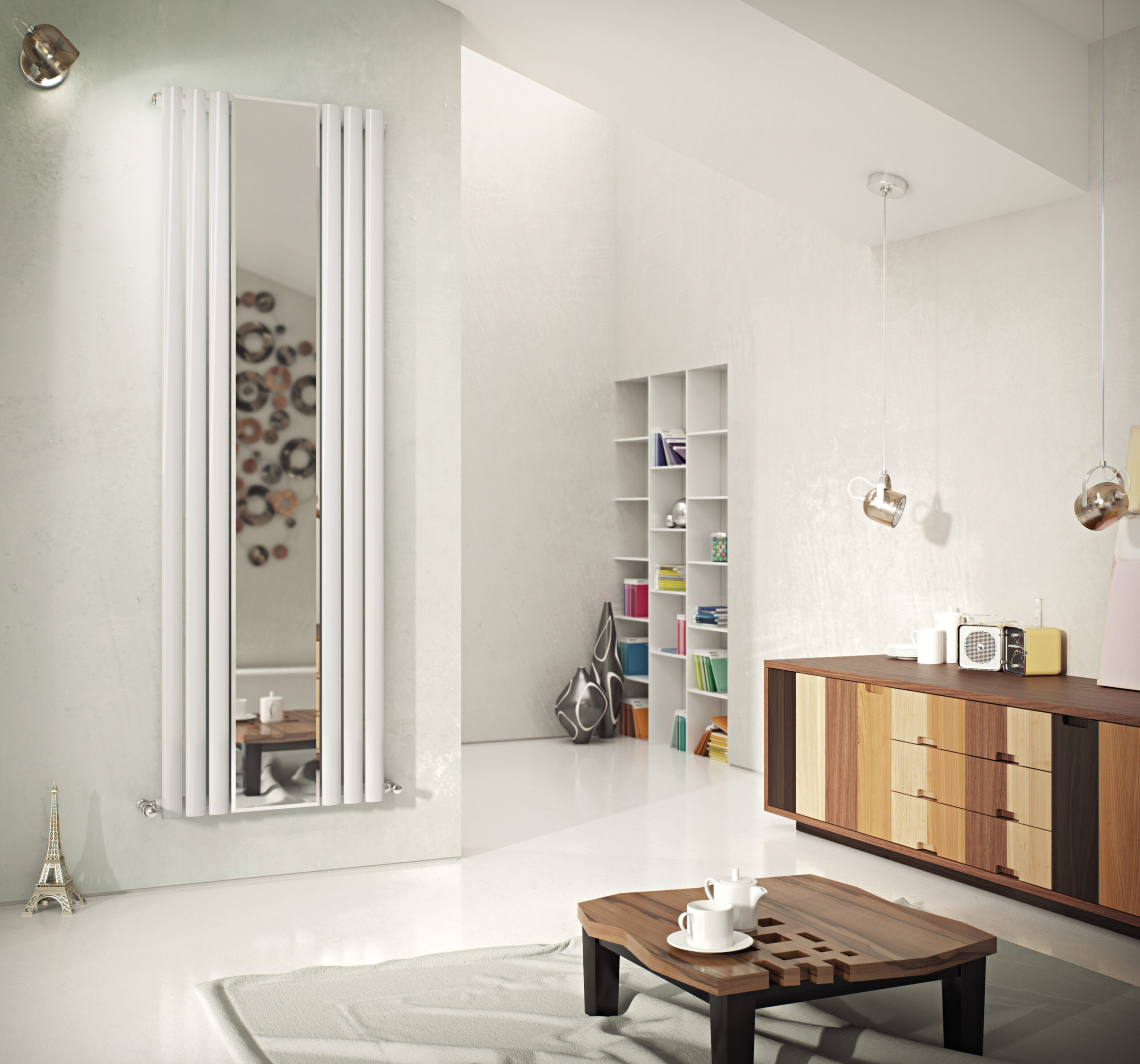 Good Things Come In Small Packages
When space is at a premium, it's especially important to make the most of the area you have. Desks that fold flat against the wall are a great space saver.
Vertical radiators are also definitely worth a look. They free up space by allowing furniture (such as your desk) to be placed flush against walls that would otherwise be hosting a horizontal radiator. If you've got a narrow wall close to your proposed office space, which can't really accommodate anything else, a vertical radiator is a perfect solution.
Take a look at this Raw Metal Vertical Tubular Steel radiator.  It comes in three sizes to fit your space, and it'll keep you toasty whilst you work, without compromising on vital space.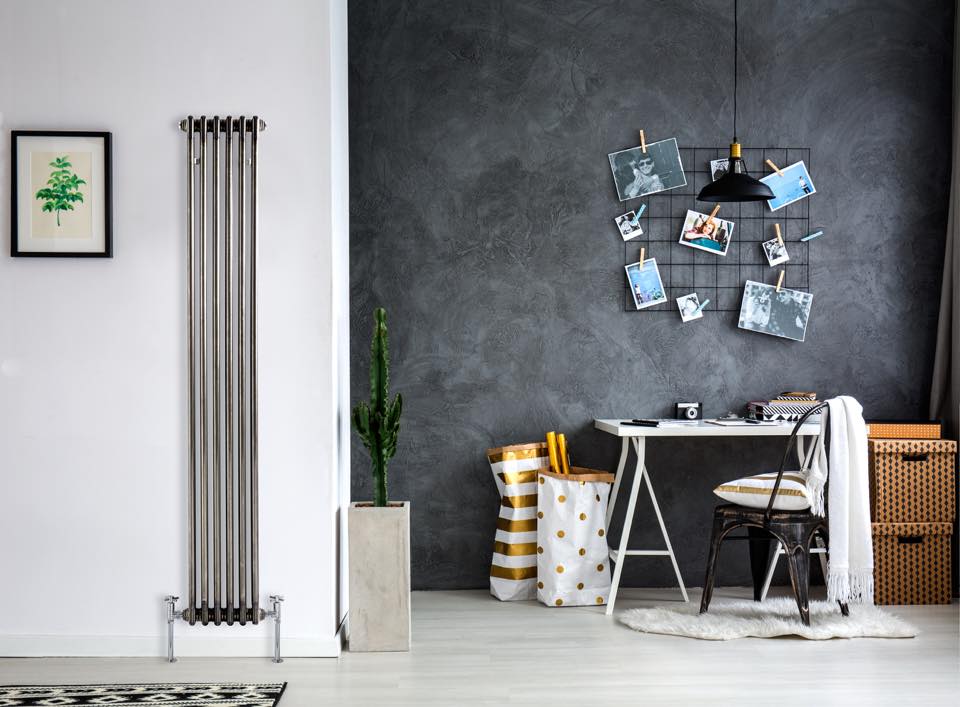 Study In The Garden
Another potential option if you're thinking of creating a permanent office space is to have it in a garden room. The majority of garden rooms are classed as permitted developments, so you don't need to apply for planning permission. Just make sure it's a single storey, doesn't have any kind of balcony or veranda, and doesn't take up more than half your garden. Oh, and you'll need planning permission if you're actually planning to live in it. Otherwise, you're good to go.
Whilst the idea of an office in your garden is obviously very appealing – no noise, save for a few bird calls and the rustle of the trees in the wind – it could get a bit chilly, particularly in the winter months.
When choosing how to heat your garden room, take into account its size, whether it will be needed for year-round use, whether it will be in the shade, and, of course, your budget.
Use our handy heat BTU calculator to give you a good idea of which radiator will be best for your needs. The higher the BTU, the greater the heat output. Just enter a few simple measurements. All of our radiators have their BTU listed in the product description, so it's easy for you to find what you need.
Electric Radiators for Study
If your garden room isn't linked up to your main central heating, an electric radiator is a great solution. The Terma Camber Electric radiator is a great choice of radiator for any garden study. It comes in three colours; graphite, quartz mocha and white, to perfectly complement your chosen décor.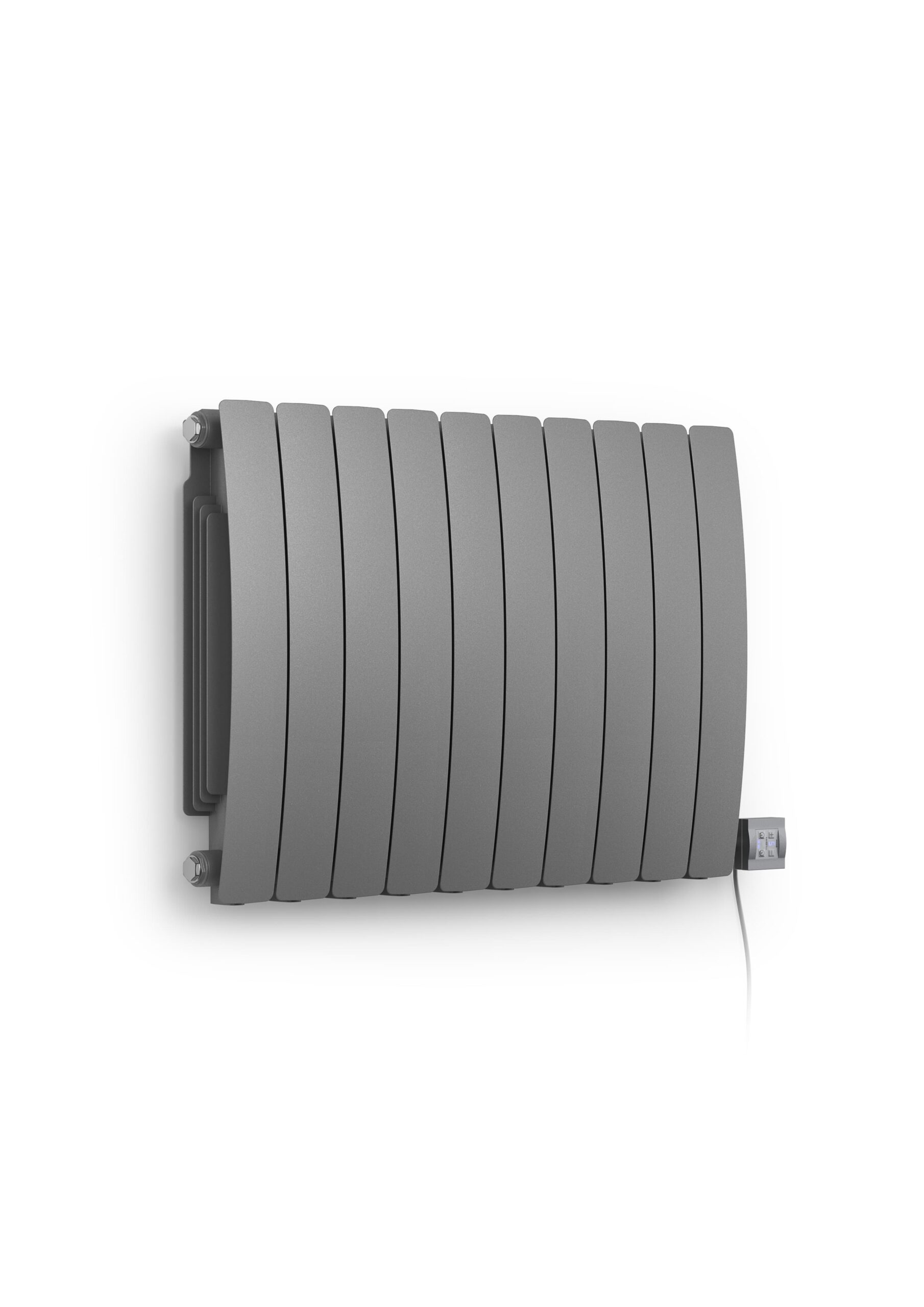 For a radiator that's both vertical and electric, check out the Terma Rolo Room Electric. Best of both worlds!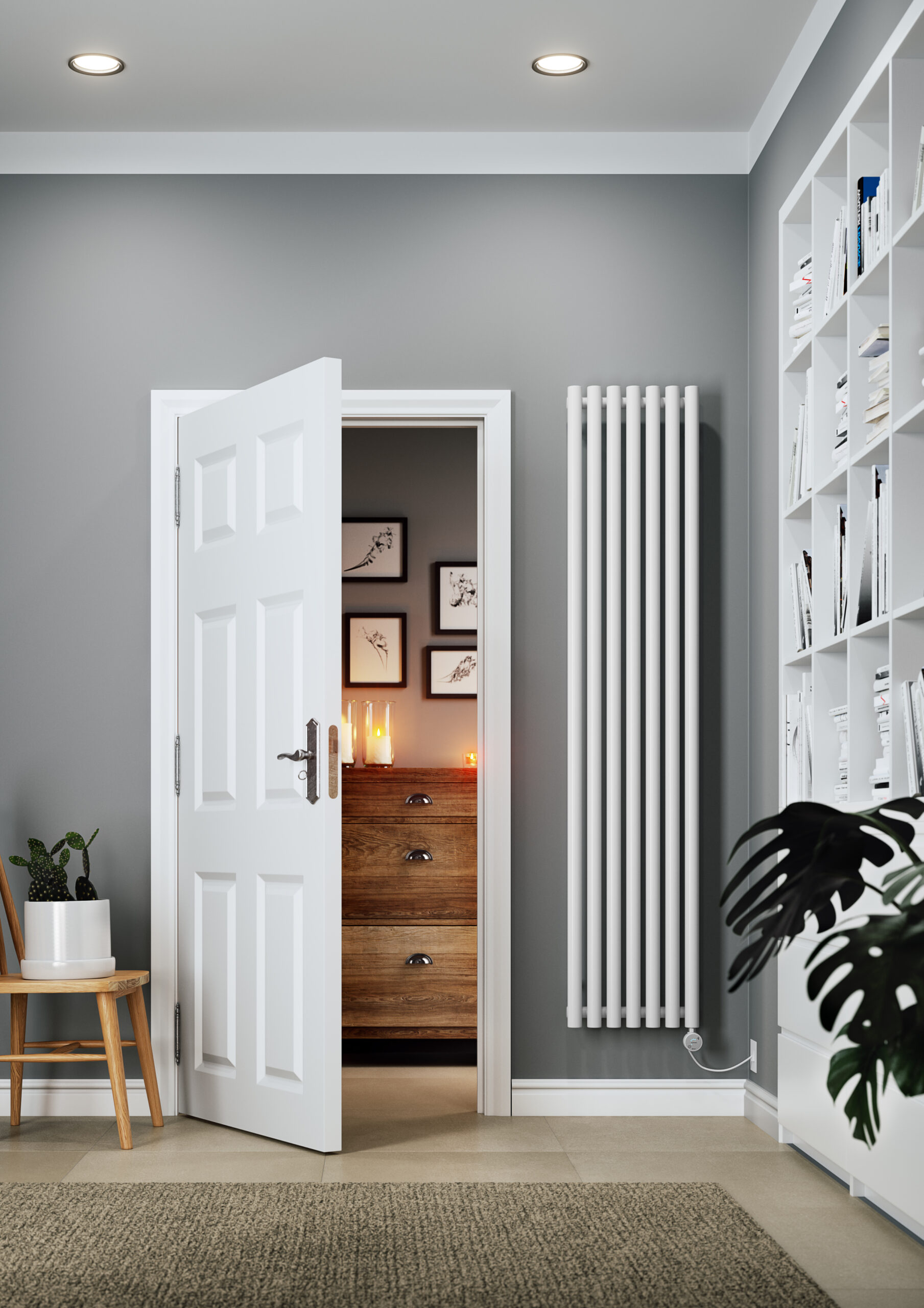 The big advantage of electric radiators, whether in your garden room or otherwise, is that they work independently. This means that they offer a huge amount of flexibility and temperature control.
If you're in your office all day, you don't want to be heating your entire house. Keep your central heating off and just switch your office electric radiator on. Equally, when you're not in your office, you don't want to waste money heating it!
If you have any questions about heating your new home office, send us a message or give us a call on 0800 009 6145.