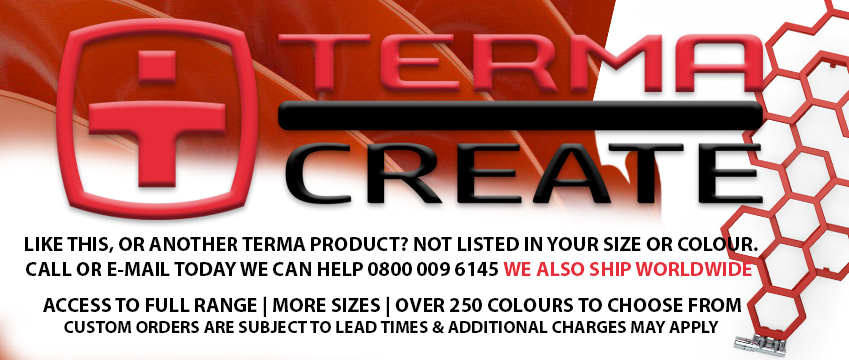 Choose Your Perfect Radiator using 3D Virtual Reality with Terma Create by PoshRads 
In years gone by, a radiator was just that. A metal monstrosity protruding from your wall, made to be purely functional. Nowadays, that is no longer the case. Your radiator need no longer be an eyesore, as we have a whole range of designer radiators online that are made to be both efficient and aesthetically pleasing. However, the sheer amount of designs on the market these days can make choosing a radiator a bit of a headache. And how do you know if you'll like how it actually looks in your room when you get it home? 
Whether you need a centrally heated radiator, an electric radiator, or one that uses dual fuel, if you would prefer single or double panel, and whether more traditional horizontal or modern vertical radiators are your thing, we've got you covered. 
All of our Terma radiators can be visualised in 3D, so that you can see what they look like from every angle. Better still, you can actually use our virtual reality system to see what each radiator would look like in your room, with your own furniture and decor. We call this process Terma Create, and we know you're going to love it. You can view live colour changes, try out different locations for your radiator and you'll even be able to view it with your chosen accessories and elements. 
This process allows you to add personal touches to our beautiful designer radiators, making them completely bespoke to your taste and requirements. 
Here is a link to all the radiators that can be viewed with Terma Create. They can be RAL painted in a range of over 250 colour options and special colour finishes, with a wide array of sizes on offer to best utilise your available space. 
Terma Create is really easy to use. To see your chosen radiator from every angle, just click "3D visualisations of Terma radiators." To see what it would look like in your home, click, "See interior arrangements," then the play button, and then, "VR mode." 
Ta-dah! Super practical and lots of fun. 
FInd a radiator on the Terma website

link

Choose colour and size options as listed
Pick your accessories to match
Place your order by phone or email
Manufacturer this process takes around 6 weeks currently
Deliver to you Worldwide
Call for responsive quotes and orders
Freephone: 08000096145
or email info@poshrads.co.uk